"ever since 5 years old, i been shoving your carrots up my ass."
CARICATURE INFO
Dafty first appeared in Episude 6 - Caruts staring as Bogs' best friend. Dafty has a beak and turns out to be very evil. He follows a master and he does all his plans but they never seem to work quite right because Dolan or Spoderman always seem to foil them. He is finally defeated ones and for all in Episode 24. Dafty has killed many people because he follows the master . later he turned good again
He is mentally  retarded.
TRIVIA  *Dafty used to be best friends with Bogs until he convinces.
ncd him to try and start the apocalypse using a reborn Spoderman that kaem frum Hell out of Bogs' fetus.
Dafty has a beak.
Since he was five years old, he has been shoving Bogs' carrots up his ass.
APPEARANCES
SEASON 1
1
2
3
4
5
6
7
8
9
10
11
12
13
14
SEASON 2
1
2
3
4
5
6
7
8
9
10
11
| color | meaning |
| --- | --- |
| | The character appears in the episode. |
| | The character doesn't appear in the episode. |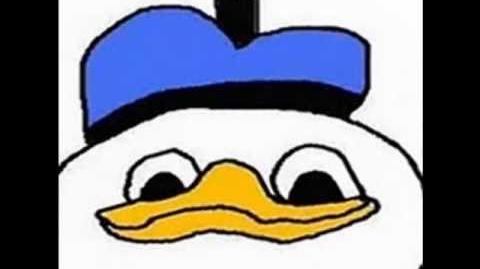 Ad blocker interference detected!
Wikia is a free-to-use site that makes money from advertising. We have a modified experience for viewers using ad blockers

Wikia is not accessible if you've made further modifications. Remove the custom ad blocker rule(s) and the page will load as expected.