Venums rivenj

Picture

Episude No.

004

Sesun

1

Episude

4

Airdate

14th April 2012

Episude chronology

Dolan Episodes:

Most memorable phrase:

Venum: were's gooby? Dolan: Why I tell yu? he my bes frend. Venum: cause im gon kil him. Dolan: Thrd dor on teh left.
This is the fourth episode of The Dolan Show. it aired on the 14th of April 2012.
Dolan is sitting on the couch when Venum asks them where Gooby is. Dolan asks you, then Venum says he's gonna kill him. Dolan then tells them where Gooby is, and Venum goes up to his room. Gooby notices Venum, an Venum asks if he killed Spoderman. Gooby replies: "Yes" but ten Venum says that it's his job to kill Spoderman, and now Gooby has to die to. Venum kills Gooby, ("ouch") then disappears. It then cuts to Dolan, sitting on the couch again.
This leads to Episode 5 - gooby ded.
Characters in the episude
Edit
- Dolan
- Gooby
- Venum
This is a part of a two-episode story arc.
This is the first appearance of Venum.
Venum does not make an appearance again until Episode 9 - Fur Dais.
Episode Video
Edit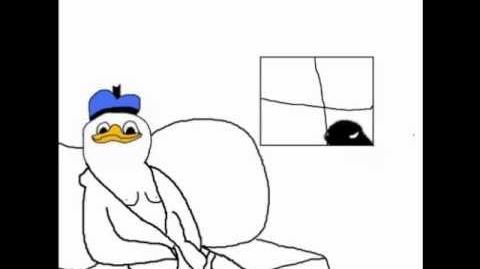 Ad blocker interference detected!
Wikia is a free-to-use site that makes money from advertising. We have a modified experience for viewers using ad blockers

Wikia is not accessible if you've made further modifications. Remove the custom ad blocker rule(s) and the page will load as expected.