What is it?
Mcmorkys is a restrant oned by morky , it wuz teh numba wun bruger joynt in Dolantown up until he died in Episude 14 - Dis is it... Dolan becaym teh ownur in Sesun 2 Episude 15 - Sekrit Saws. He chanjd teh naym into McDolans. It wuz qwyt sucksesful untel Winy Teh Pee teh privit inveshigaturr got Dolan arested bcuz teh sekrit saws wuz acshuly Gooby Semen.
TRIVIA
McDolans speld in englesh iz McDonalds.
Dolan has sins chanjd teh hole look ov mcmorkys.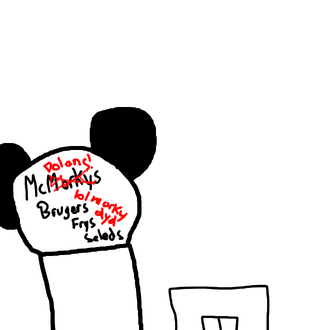 Ad blocker interference detected!
Wikia is a free-to-use site that makes money from advertising. We have a modified experience for viewers using ad blockers

Wikia is not accessible if you've made further modifications. Remove the custom ad blocker rule(s) and the page will load as expected.